Intelligent RFID-NFC technology based safety key cabinets: KeySafe Lock Series
With the intelligent KeySafe Lock key cabinets you always know, where your keys are.
The key cabinet opens with personal RFID proximity ID, PIN code or optional with fingerprint. Keys are secured by electric engine driven locks and RFID tags, let them take away only if the user has permission for. Authority management is per key, for person and time period. The opening and closing events will be logged, can be monitored. The system checks automatically if the person is authorized to take that specific key, or not. It monitors also that he put back to the right slot, or not.
The system invoke alerts in case of missing key or overdue keys or by setting if someone fails to put the key in it's position. The  KeySafe Lock cabinets are suitable for professional use with high safety level.
Key Management Advantages
Right persons will have the right keys for the right time
All keys are stored in a safe place
Manage keys centrally for several buildings, cars, etc.
Automatic Real time tracking of usage (who used it before – view reports from Log)
Plan key usage (book a key for car or meeting room in advance)
Controlled access to keys and box contents
Define rights and groups on demand for keys and personnel
Security – only authorized staff has access
Protection against theft and sabotage
Key cabinet can invoke an external alarm
Keys are secured by electronic locks
Each key has its own unique ID number (RFID)
Keys can be returned to a fixed or any position
Grant temporary access remotely for external workers
Increases efficiency and reduces cost
Offline-online and online type versions
The basic type is made with an embedded PC. This offline-online version allows stand-alone operation, but management is also possible via LAN, by ProxerNet software from a PC on the network. You can manage keys in several buildings from a central office.
The built-in touch screen allows an easy, comfortable key management and search.
The optional online version can be managed from a PC connected via Ethernet network. Trough the network an administrator can monitor all key movements, view reports.
Both versions support multi-cabinet systems and a key search function.
Features
The intelligent, safety key cabinet can be opened only with ID card, fingerprint or NFC cell smart phone
User can access key only with permission
Automatic bolt locked RFID proximity key plugs
Identification of keys: by RFID key plugs
Makes records of the door openings, person, time, keys pick-up and putting back in which position
Capacity of keys (see at subtypes)
Authority can be given and withdrawn per keyAuthority management via internet, with the ProxerNet management software
Management via the touch screen and/or remote management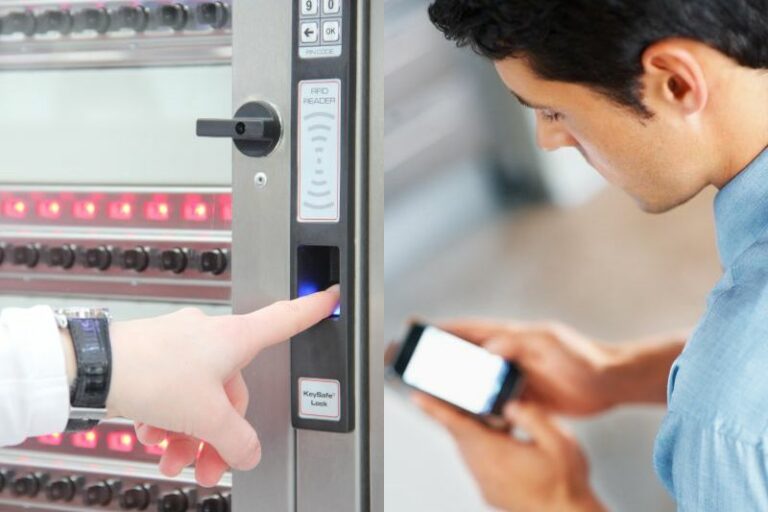 Where is my key? – function
Management for several cabinets in one network
Online-offline communication
Safety glass door, optional full steel door
Can be fixed on the wall
Power supply: 12V (12V/230V, 24 hours UPS)
Several cabinets can be connected to one data cable
Modularly expandable
Robust steel case, indoor design: static powder coated stainless steel cabinet in color RAL7035.
Available IP65 outdoor design with brushed stainless steel cabinet, or built in a strong-box.
Fingerprint reader. The cabinet door can be opened with the fingerprint
The door can be opened with the customer's existing cards
Wi-Fi communication
Vandal safety crimped keyring
SMS alarm if someone exceeded the time limit
E-mail alert about the movement
The user has to save the actual mileage of the returned car on the touch screen – function
Integration with alarm system
Integration to the access control system: enables exit
permission only if the user brings back all the keys
Online version
Full steel door instead of the default glass door
Outdoor design with brushed stainless steel cabinet, roof for weathering
More cabinets can be built together
Direction of the door opening is eligible
Elements of the KeySafe System
The KeySafe Lock steel housing, safety glass doors, wall- mounted key box includes: integrated safety RFID magnetic lock, integrated status LED, electro-mechanical locking RFID key slots, RFID key chain, RFID proximity card reader and embedded PC with touch screen, offline-online operation, Ethernet, powder steel housing, indoor design, UPS. The ProxerNet software's Keysafe module (PC running Windows applications) together form a complete system that allows key usage, that can be monitored, managed and integrated with a
building management system.
Optional connection with access control system: permitting
leaving only if the person placed his key(s) back to their places
If someone uses a key, has to give it back at least till leaving for the day. He can put it back to a different key safe cabinet than from which he had taken it. The cabinets logged who when and what key he brought back.
It sends immediately these data to the Host and the Host decides if he is allowed to leave or not. In case of "no", the Host knows that he still has keys that have to be replaced. The Host sends these key names to the access control system and the gatekeeper would see why the person can not leave the building.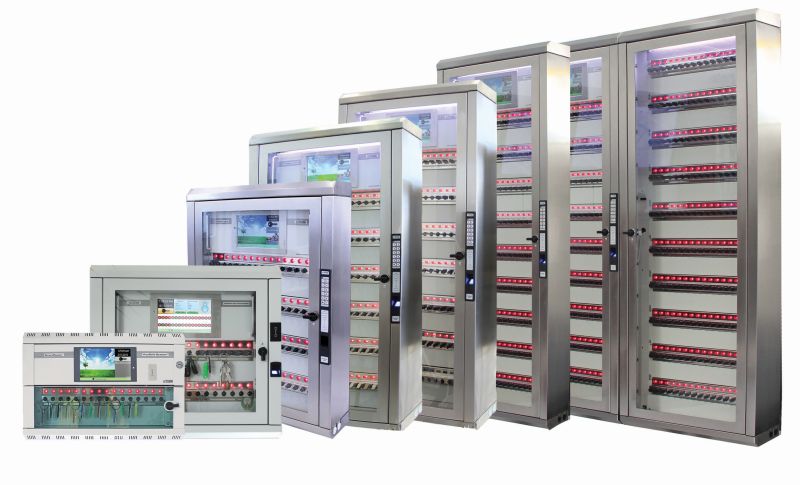 KeySafe Lock storage capacity: 8 from 1008 keys.
The number of slots per request. The
numbers in the name of the device is for the number of key slots. The basic versions:
KeySafe Lock 16,
KeySafe Lock 32,
KeySafe Lock 64,
KeySafe Lock 96,
KeySafe Lock 400,
KeySafe Lock 800, etc…
Electronic key management systems and box systems can be built into certified safe cabinets for extra safety.
Our SP series safes are certified against SSF3492 Swedish Standard.
Those cabinets are much more heavier that the wall cabinets. It is protected agains force open and burglary.
Certified safe cabinets are equipped with electronic code lock but also standard keylocks can be used.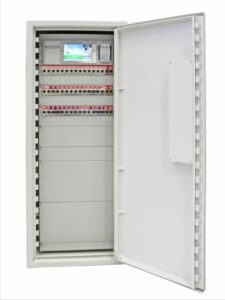 Alcotester cabinets
This special key cabinets are equipped with Alcohol Breathalyzer device, which provides anextra safety after
authorisation and
…