Key Management with RFID Technology
Key management system security
You always now who removed the key and when it was taken or returned.
Define access rights to users individually.
Monitor how often it was accessed and by whom.
Invoke alerts in case of missing key or overdue keys.
Secure storage in steel cabinets or safes

Advantages
Real-time transactions
Control access to cabinets and to all keys and boxes
Convenient accessability
Scalability – Select the number of key positions you desire and extend it upon demand.
Combine key positions and value boxes within one system
Key cabinet's capacity can grow together with your needs
It can cooperate with other systems.
Accountability and responsibility – reporting user and key activity.
Software on the cabinet's screen shows what keys are in and who has actually the key if it is taken (for authorized staff)
Problems around keys
Keys get used by wrong person
Keys get borrowed
They get lost and found by unathorized people
They are often forgotten to return
items may be accessed by external staff
If more people are entitled to use a certain key and it is taken by one of them, who knows where the key is at the moment?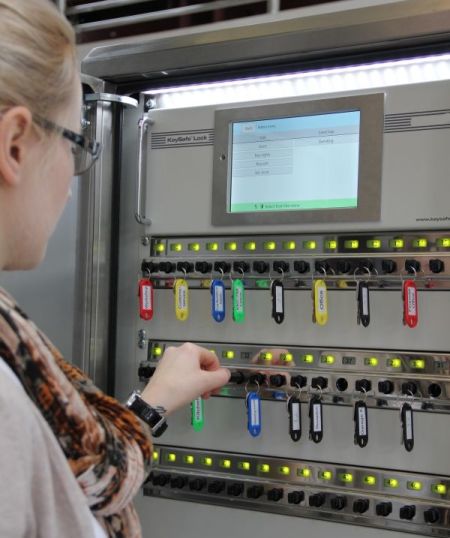 Solution
Managed access control system for keys and valuables
Illuminated key positions make finding keys very easy
Access via a user-friendly touch PIN-pad and card reader
Return any key to any open key-place and the system will remember the new position
Provides access records and reports
Helps reducing cost – less lost keys lead to lower expenses and higher security

Who needs key management?
Banks
Government institutions
Military
Power plants
Hotels, hostels, resorts
Conference centers
Universities, colleges
Gaming industries
Corporate buildings
Property management
Security companies
Automotive businesses
Car rentals & Fleet management
Hospitals, Healthcare facilities

What an intelligent key management system can do for you?
You know exactly where your keys are
You know who is using the key
Keep track of usages
Define rights for users
Add/remove users, cards and keys
Users will access the keys only with permission
View reports
Safe storage
Manage keys in several buildings from a central office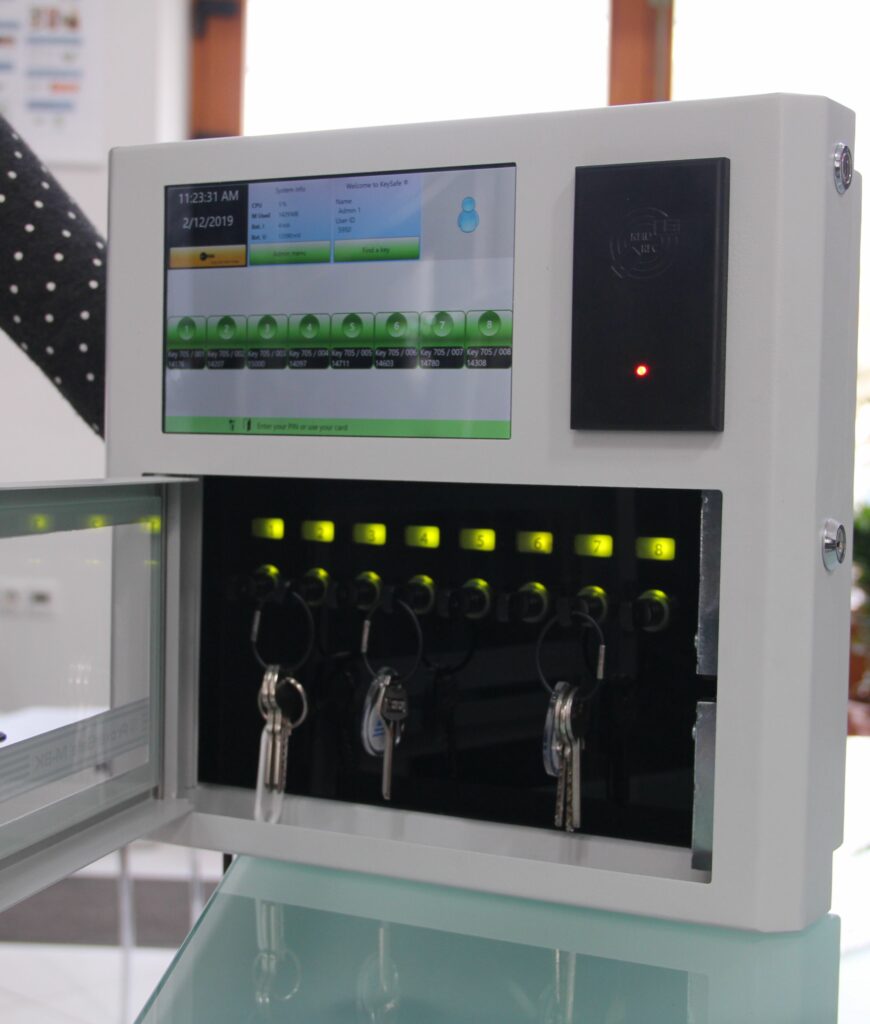 Intelligent Storage Box Cabinets
Storage Box Cabinets
To store valuables, instruments, documents, keys, mobile phones, computers,etc… on a controlled and monitorable way.
Intelligent, safety storage with proximity card, PIN code, or optional fingerprint opening
The cabinet can be opened only with authorized ID.
Integrated embedded computer with Touch screen and multilanguage support.
The box cabinets are modular storage solutions. They can have different number of boxes, various sizes of box-modules or a combination of keys and boxes in one.